Summer Bash
DONATIONS:
Midsummer Night Sponsor
Endless Summer Sponsor Summertime Sponsor
RAFFLE:
$20 each OR 3 for $50 OR 7 for $100
PRIZES:
iPad 32GB
Bartesian Premium Cocktail Machine
Floral Bouquet – once a month for one year from Art Flower & Gift Shoppe, RVC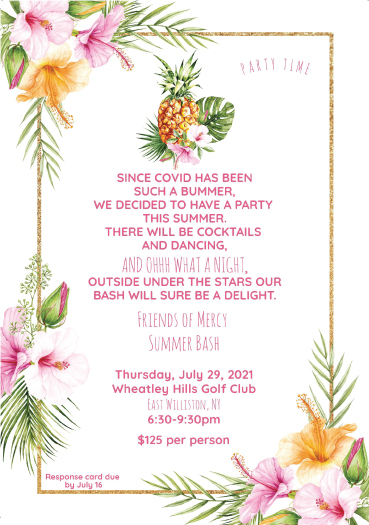 RSVP
Wheatley Hills
Golf Club
Thursday July 29, 2021
6:30 – 9:30 PM
$125 Per Person
Response card due by
July 16, 2021
Questions: Contact Gloria.DiSciullo@chsli.org or 516-705-2618.
Summer Bash proceeds will support state of the art equipment needed in the Department of Radiology & Imaging for the diagnosis and treatment of breast issues.

The Friends of Mercy are in compliance with New York State's COVID-19 safety guidance. As of May 19, New York State small venue gathering rules (under 500 people outdoors) are: Fully vaccinated individuals do not need to wear masks or be socially distanced, but unvaccinated individuals must continue to wear masks and be socially distanced. Please carry proof of vaccination, if needed. Thank you.
The Friends raise funds for Mercy through the sponsorship of annual benefits.
Gentlemen's St. Patrick's Dinner – A festive evening of laughter, good cheer and fellowship while eating corn beef & cabbage and listening to Irish music. A great Friends tradition!

9 & Dine Golf – Start the golf season with 9 holes of golf, cocktails and dinner

Mercy Luau – A favorite for many, celebrated at a fun outdoor beach venue

Golf Classic – Held on a pristine golf course that offers a great day of golf and dinner

Mercy Ball – Prestigious ball that has become the traditional kick-off for Long Island's holiday social season
Proceeds for the remaining half of 2021
Mercy Hospital in partnership with The Pain Institute of Long Island, has made a commitment to expand its pain management services with the development of a 5,000-square-foot, state-of-the-art center on Mercy's campus. The Pain Management Center of Excellence will be located on the lower level of the Miracle Building and will boast highly advanced equipment, multiple treatment options to give patients safe and effective pain management (without the need of opioids) and an interdisciplinary team of physicians and medical professionals to assist with the management of acute and chronic pain.
Donation
Donate Now